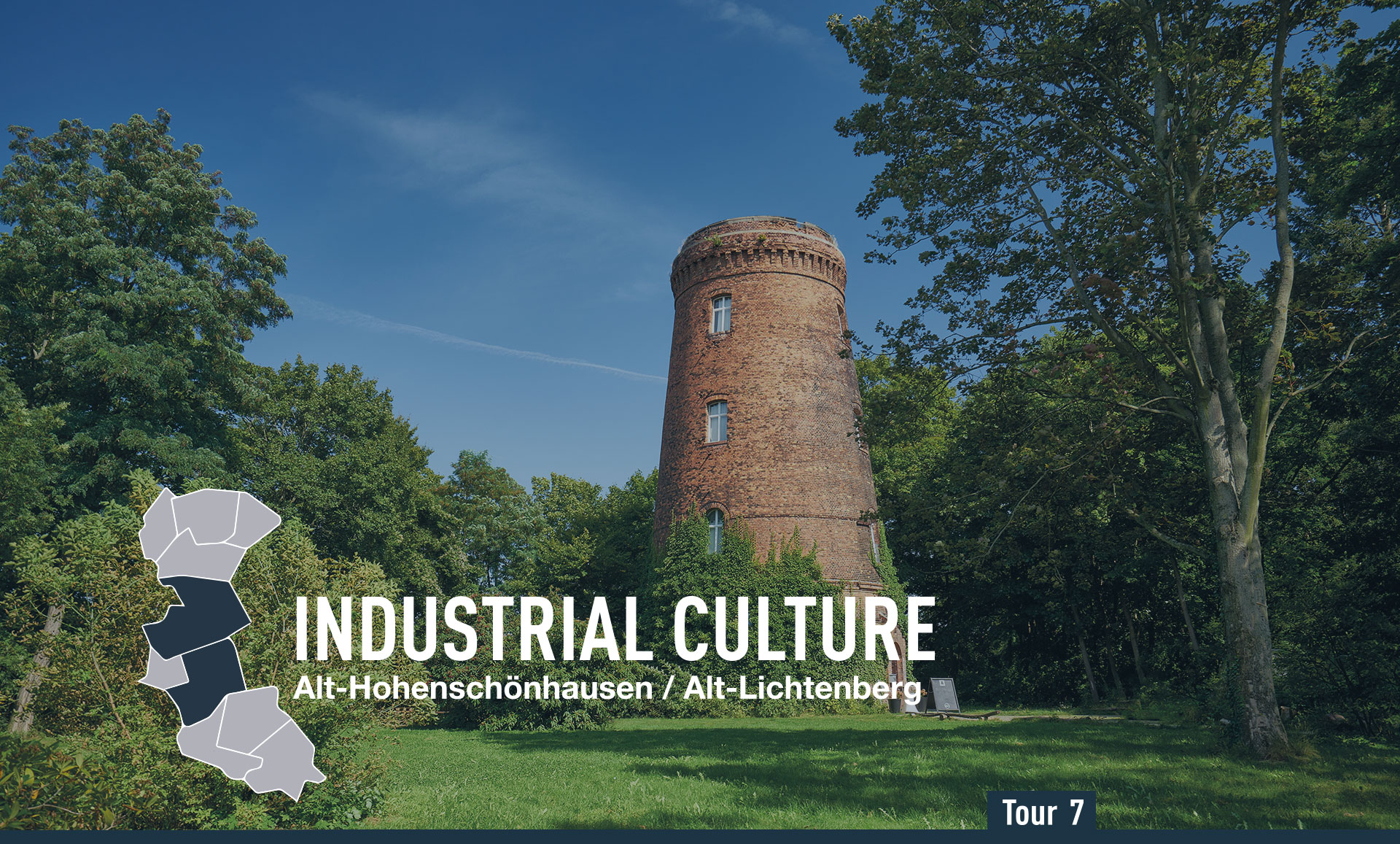 Start:   Hauptstraße 44
End:   Siegfriedstraße 31
Length:  8,4 km
On foot: 3,0 h
You start your tour on Hauptstraße. Paul Schmidt (1868–1948) lived in the Hohenschönhausen manor house from 1910 to 1929 in what is today 
Hauptstraße 44. His inventions included the dry cell battery (1896) and the first German torch in Germany (DAIMON), which he had patented in 1906. In the office and factory complex at Große-Leege-Straße 97/98 (a listed building), Schmidt produced radios up to 1925. Then his business went bankrupt.
Via the Oberseestraße, you reach the

Obersee Lake. It was created in 1895 as a reservoir and source of ice for the Löwenbrauerei brewery in Konrad-Wolf-Straße. From 1899 to 1909, the brewery built a villa here with an administration building. The only building left intact after World War II was the malting plant, which was used by the VEB Bärensiegel state-owned company as a warehouse. In 2002 the brick building was converted into a retirement home.
The

water tower at Obersee Lake served as a water supply for the brewery and villa colony from 1900. Today it accommodates an apartment and a bar.
In the 1920s, the Kindl Brewery moved its administration headquarters, production and

malting plant to the street now named Indira-Gandhi-Straße. The silo tower near the street is a real eye-catcher. After 1949, the brewery belonged to VEB Getränkekombinat Berlin, where its products included the famous Berliner Pilsner – which is still made here.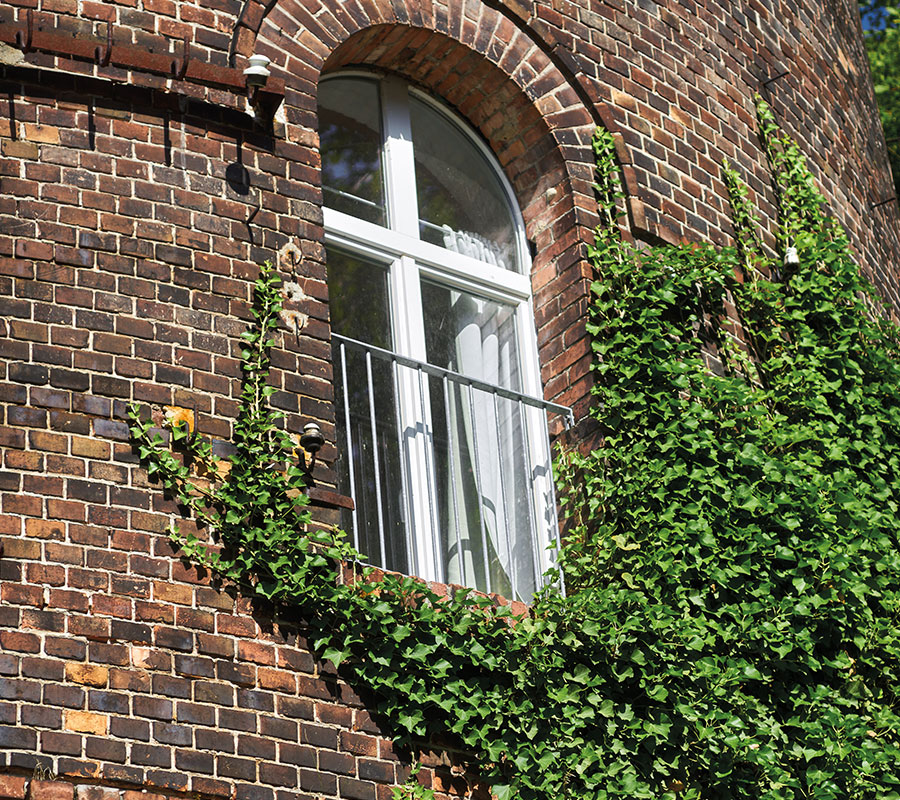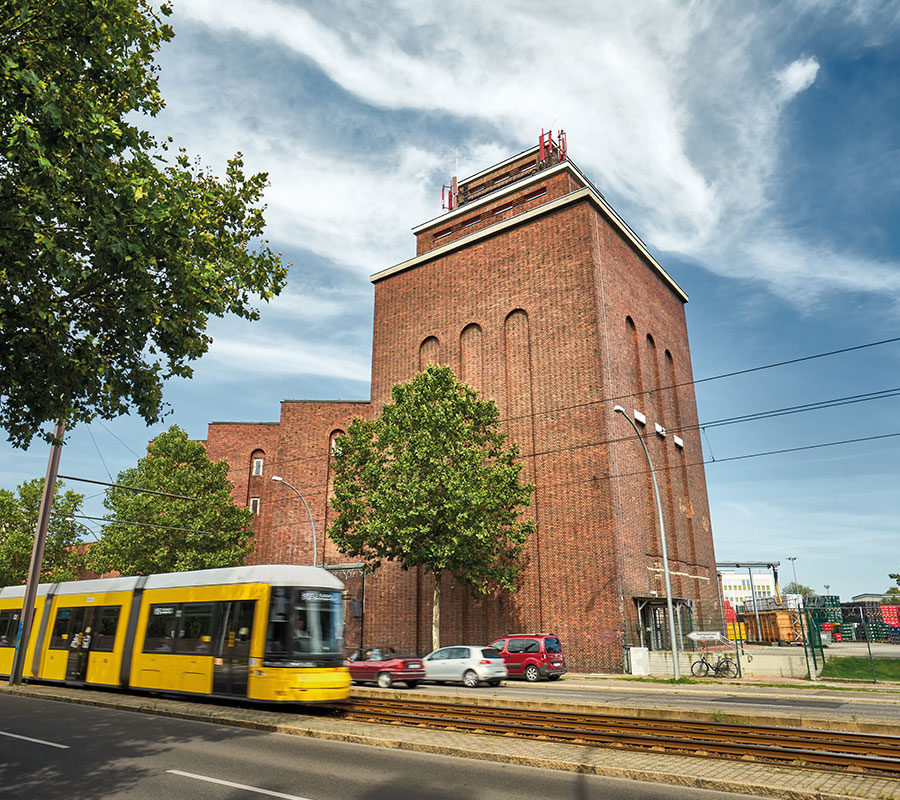 Berliner-Kindl-Schultheiss-Brauerei (brewery)
After taking the M13 tram to Roederplatz, transfer to the M8 tram. Then you will reach the

buildingcomplex at Herzbergstraße 55. Erected by architect Karl Schramm in 1909, the front building, in particular, with its representative design incorporating art nouveau elements and the bossing of the outer walls extending over two floors, is a testimony to the affluence of its owner. During the period of East Germany, margarine was produced here. In 2007, the building was converted into ateliers, workshops, studios and halls for artists and commercial enterprises.
At

Herzbergstraße 82 the AGA (car manufacturing corporation), produced cars with up to 21 HP. In 1924 the company went bankrupt, while the monumental three-winged building remained standing. From 1940 the building housed the Reich Treasury, and from 1949 parts of the combine "Großhandel Waren des täglichen Bedarfs" (everyday consumer goods). Today the building is home to businesses, service providers and social institutions. After a short walk, you reach the

BVG-Siedlung (colony) on Siegfriedstraße. From 1925 to 1930, the charitable homestead society of the Berlin Straßenbahn GmbH commissioned the construction of two residential blocks with spacious, green courtyards for its employees. When in 1913 the neighbouring tram station was opened, it was regarded as the largest in the world. The northern block was only built later, and already possessed central heating.
In 1929, the architects Hans Claus and Richard Schepke designed a factory complex in Indira-Gandhi Straße with clear forms and mostly windowless wall surfaces, to which narrow arched bezels lent a certain rhythm.
Hohenschönhausen manor house
Hauptstraße 44

Obersee lake

Water tower at Obersee

Berliner-Kindl-Schultheiss-Brauerei (brewery)
Indira-Gandhi-Straße 66 – 69

 Herzbergstraße 55

 Herzbergstraße 82

BVG-Siedlung (colony)
Siegfriedstraße 31

 S-Bahn


 Tram


Start of tour


End of tour


Gastronomy


Tour route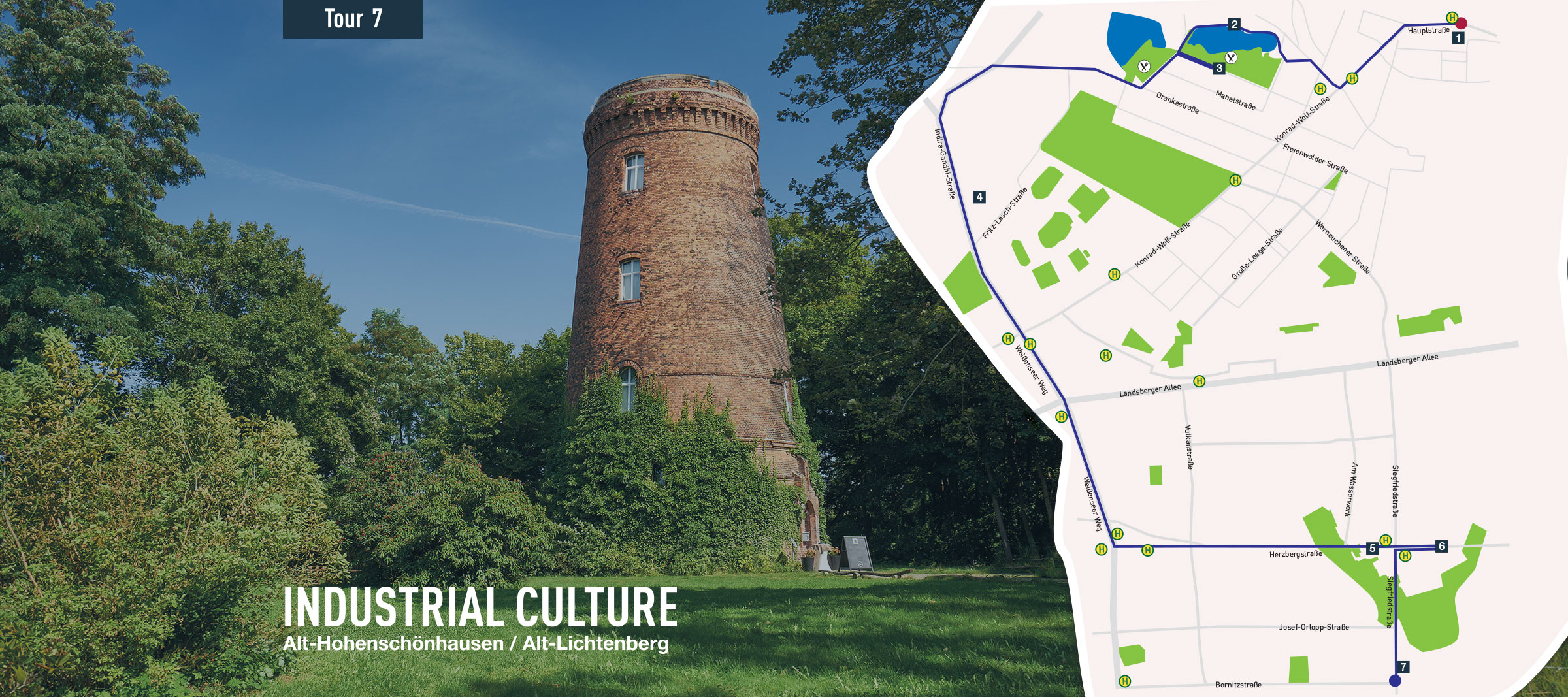 Weitere interessante Touren