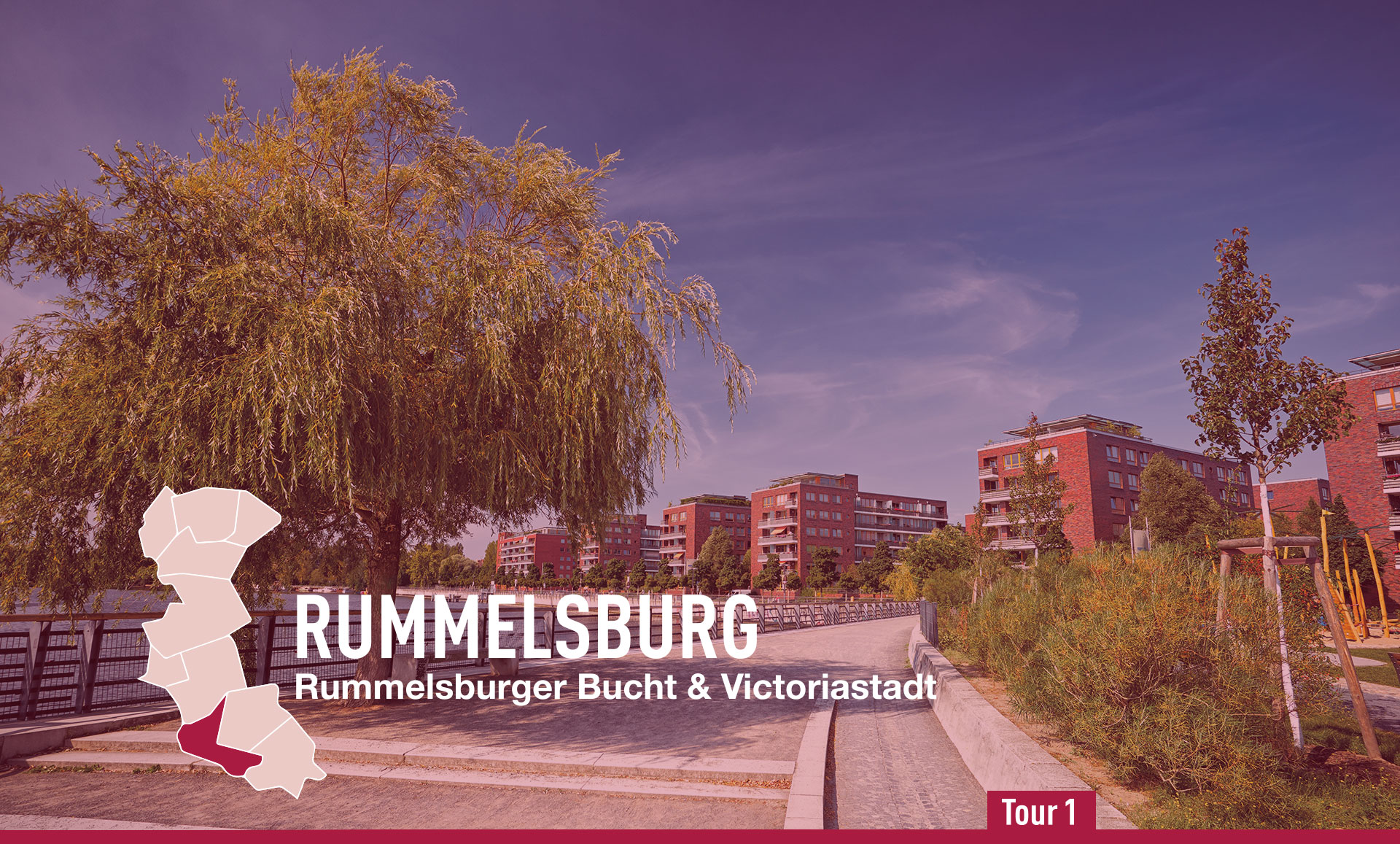 Start: 

 Kosanke-Siedlung
End:   S-Bhf Nöldnerplatz
Length:   3,5 km
On foot:  1,5 h
An expansive city landscape with lakeside trails, bike paths, and recreational facilities all make the Rummelsburger Bucht an attractive area for recreation.
Start your tour on Rummelsburger Hauptstraße at the

Gedenkort Rummelsburg (Rummelsburg Memorial Site). This open-air exhibit, launched in 2015, is located at the site of the imperial-era workhouse that served as a male prison in the period of East Germany. A tour of the site allows visitors to follow the fate of 18 prisoners. The biographies present the inmates of the Prussian reformatory and from the Nazi regime as those persons stigmatised as asocial or persecuted on grounds of their race. Also included are those imprisoned for political reasons in East Germany.
Both in the workhouse and the prison, the inmates had to perform physically demanding, health-damaging forced labour.
The exhibit can be visited at all times and reached with the M21 tram. On your walk along the bay, you will find discover fascinating buildings such as the

Knabenwaisenhäuser (boys' homes) from 1859 (pre-Wilhelminian era) or the atelier buildings of

Artist Villages, which are easily recognisable from their black and white façades.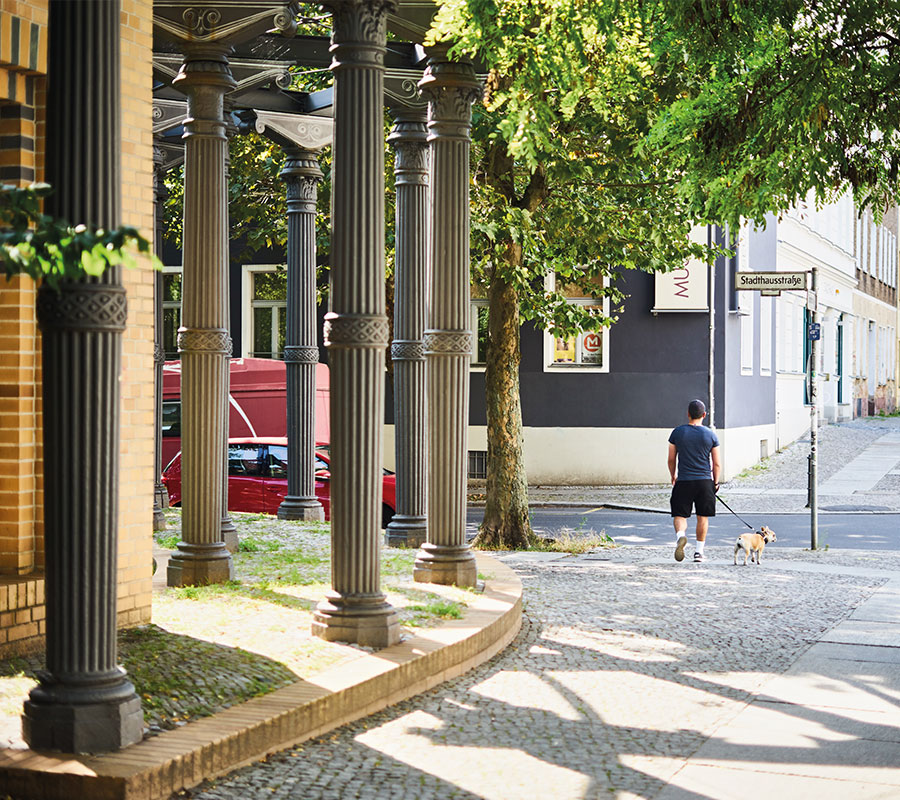 12 Hartungsche Columns and  Lichtenberg Musem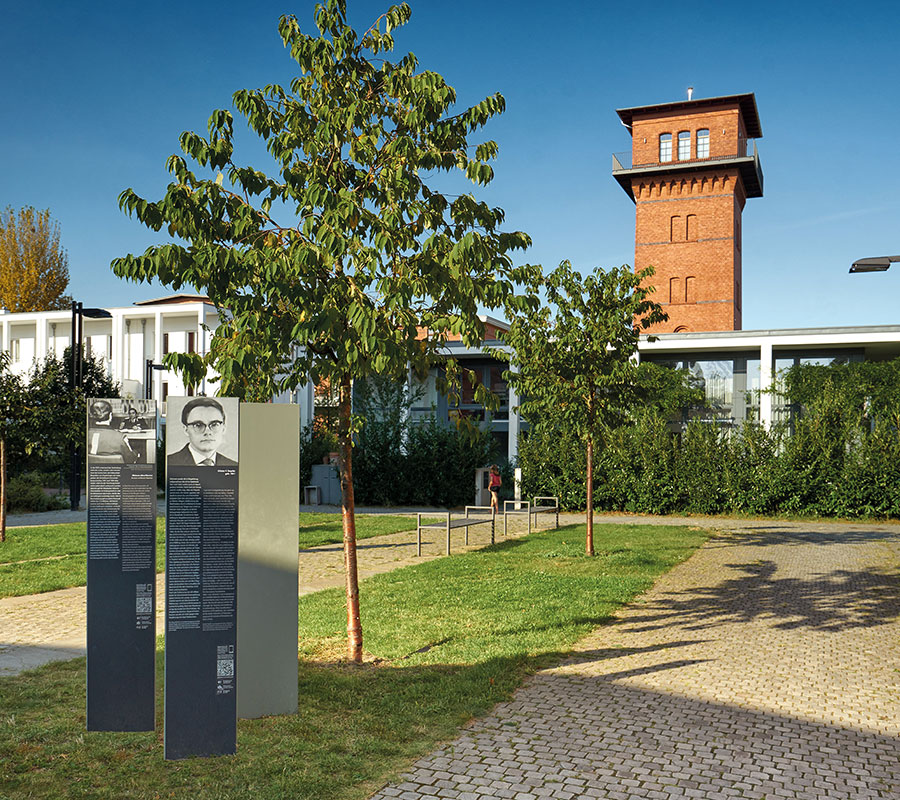 Rummelsburg
Memorial Site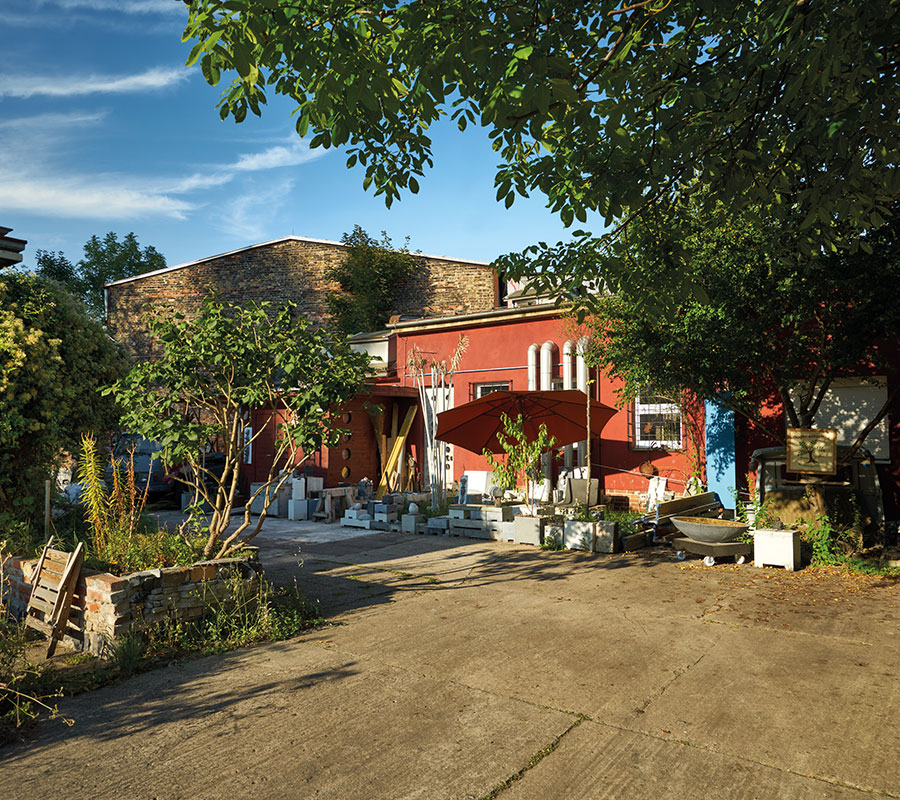 ou cross Hauptstraße and follow Marktstraße, which leads you to Pfarrstraße. Now you are in Victoriastadt with its special 19th century, Wilhelminian era charm. This quarter captivates with its meticulously restored buildings.
The

Colonie Victoriastadt was erected in 1872, providing accommodation for the workers in the nearby Rummelsburg and Friedrichsfelde industrial sites. Of the buildings built between 1872 and 1875, six are still preserved today, including in Türrschmidtstraße 17. The building was faithfully reconstructed according to historical photos.
The

Tuchollaplatz square forms the centre of the quarter. The

last home of Heinrich Zille was at Geusenstraße 16 in Lichtenberg, where he lived with his family until 1892.

Lichtenberg Museum is located in the restored and converted building of the old town hall. Here you can learn about regional history and visit the changing special exhibitions. In the park opposite,

12 Hartungsche Columns were erected. These cast-iron hinged supports are reminiscent of bridge construction in the 19th century, when nearly all of Berlin's railway bridges were supported by such columns.
The

BLO-Ateliers at Kaskelstraße 55 enrich the area's cultural life. Your tour ends at the S-Bahn station Nöldnerplatz.
Victoriastadt is a lively Wilhelminian-era neighbourhood with some of the first concrete residential buildings in the world. Albrecht Constantin Türrschmidt (born in Berlin in 1821) was the owner of a brickyard and developed slag concrete. Based on his work, the Berliner Cementbau-AG erected the first cement houses in Germany.
Legende – Tour 1
RUMMELSBURG & VICTORIASTADT
Start: 

 Kosanke-Siedlung
End:   S-Bhf Nöldnerplatz
Length:   3,5 km
On foot: 1,5 h

Rummelsburg Memorial Site
Hauptstr. 8

 Knabenwaisenhäuser, Boys' houses
An den Knabenhäusern 10

 Artist Village
An der Bucht

 Colonie Victoriastadt
Kaskelkiez

 Tuchollaplatz

home of Heinrich Zille
Geusenstr. 16

Lichtenberg Museum in the Town Hall
Türrschmidtstr. 24

Hartungsche Columns
Türrschmidtstraße

 BLO-Ateliers
Kaskelstr. 55

 S-Bahn


 Tram


Start of tour


End of tour


Gastronomy


Transport network


Tour route


District boundary