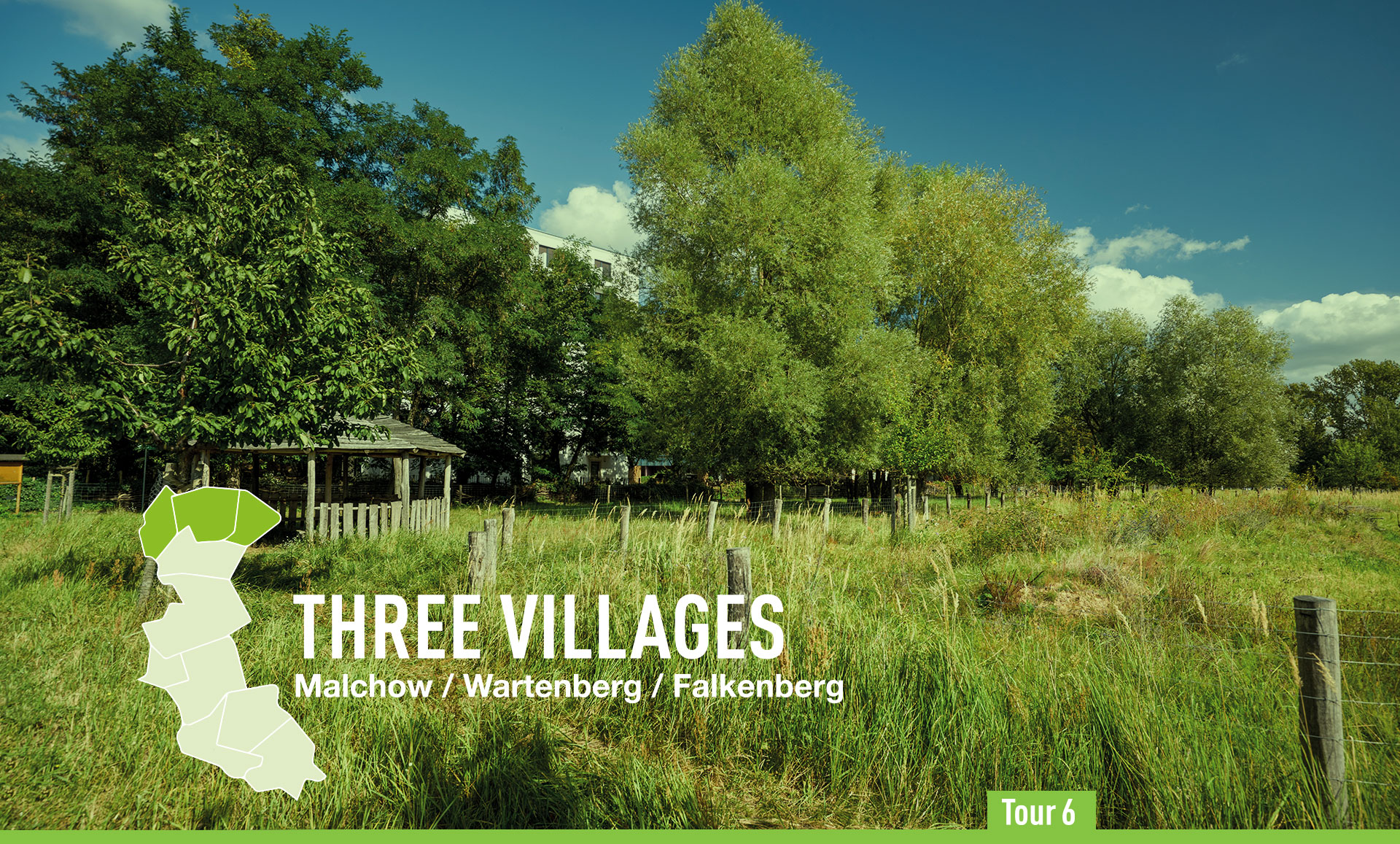 Start:  Malchow Nature Centre
End:    Falkenberg Cottage
Length:  9,0 km
On foot: 3,0 h
On your tour through Malchow, Wartenberg and Falkenberg, three idyllic 13th century villages on the Berliner Barnim, you become acquainted with the rural side of Lichtenberg.
Starting point is the premises of the

Malchow Nature Centre. Here you experience native animals and plants at first hand, explore an adventure garden and observe native fish species in the Arvid-Goltz freshwateraquarium. A particular attraction are the glimpses into the stork nests at the Natural Farm, made possible by a video camera.
The walk continues to

Malchower See (lake). Thanks to the natural state of the lake's shores, especially the north shore, it possesses a wide range of flora and fauna. Via Wartenberger Weg, you reach the

Japanese Cherry Garden with the Japanese Gate. The ornamental cherry trees – a gift from Japan – symbolise peace and the sun, and commemorate the reunification of Germany.
This is where skater circuit begins that winds through the Wartenberger Feldmark. Follow the skater path until you reach the old

village centre of Wartenberg. With a little luck, along the way you will see the Scottish Highland cows that graze here outdoors all year long. In the village centre, there is a clear contrast between the old farmhouses and the modern complexes of semi-detached houses.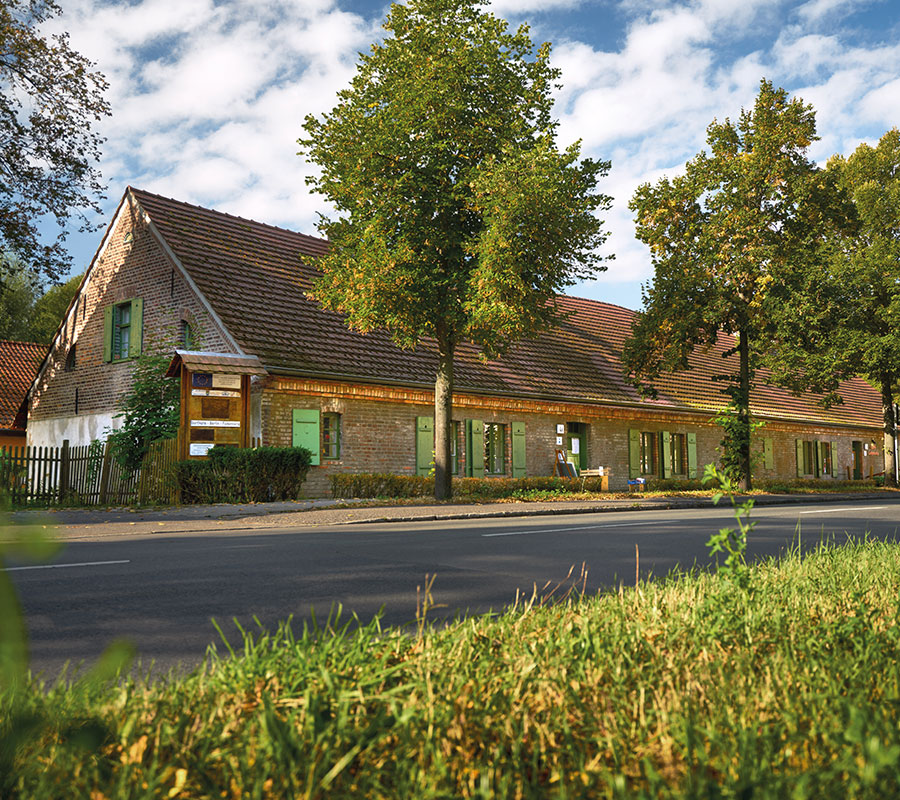 Via the Falkenberger Fußsteig and the Hauptweg as well as the Grüne Trift and Hausvaterweg, you reach the

Berlin Animal Shelter in Falkenberg. Here in Europe's largest state-of-the-art animal shelter, thousands of animals are admitted, cared for and passed on to good homes every year.
The

Falkenberg Estate Park is considered the gateway to the Barnimer Feldmark regional park. At the neighbouring

Dorffriedhof cemetery, you discover traces of the past, such as the Humboldt family grave. At the end of the 18th century Marie-Elisabeth von Humboldt, mother of the world-famous scholarly brothers, Alexander and Wilhelm, was the lady of the manor at the feudal manor of Falkenberg.

Falkenberg cottage is the end of our tour. It is the only remaining preserved loam cottage in Berlin. Built in 1820 with the typical open-hearth kitchen of its time, it has been a listed historical building since 1978. In the house, you can learn all about the Barnimer Feldmark, and in the Café Lehmsofa you can enjoy home-made cakes and warm dishes while admiring the regularly exhibited artworks.
Lost Churches
The medieval village churches of Malchow, Wartenberg and Falkenberg were blown up by the German Wehrmacht on 21 April 1945, in the last days of World War II, to impede the orientation of the approaching Red Army. Today many locations commemorate this loss.
Legende – Tour 6
Three villages

Start:  Malchow Nature Centre
End:    Falkenberg Cottage
Length:  9,0 km
On foot: 3,0 h

Malchow Nature Centre
Dorfstraße 35

Malchower See (lake)

Japanese Cherry Garden

Wartenberg village centre
Am Gutshof 4

Berlin Animal Shelter
Hausvaterweg 39

Falkenberg Estate Park

Falkenberg village cemetery
Dorfstraße 39a

Falkenberg Cottage
Dorfstraße 4

 U-Bahn


 S-Bahn


Bus


 Tram


Start of tour


End of tour


Gastronomy


Transport network


Tour route


District boundary