Gustavohaus

 Franz-Jacob-Str. 1/3


10369 Berlin
Bürgerschloss Hohenschönhausen*

 Hauptstr. 44


13055 Berlin


 Tel.: 030-97 89 5600
www.schlosshsh.de
Taborkirche
 Hauptstr. 42


13055 Berlin


 Tel.: 030-98 63 74 84
www.taborbote-online.de
Splanemann Siedlung

 Splanemannstr./Ecke Friedenhorster Straße
Schrotkugelturm

 Nöldnerstr. 15/16


10317 Berlin
  * People with limited mobility are advised to enquire ahead of time
Largest mural on a residential building worldwide
Friedrichsfelder Triptych
An initiative of Wohnungsbaugenossenschaft Solidarität e.G
Alt Friedrichsfelde/Am Tierpark
The trompe l'oeil wall mural was designed by the French artist collective Cite de la Creation on a 22.000 square metre facade

Photo credit: WG Solidarität eG – Friedrichsfelder Triptychon/  Foto: Klaus Dombrowsky
Lichtenberg Open Art
An initiative of the HOWOGE Wohnungsbaugesellschaft mbH
CHRISTIAN AWE "Lebens(t)räume Lichtenberg", 2012

Standort: Frankfurter Allee 192
The initiative LOA Berlin began with the art façade by Christian Awe in 2012. The Lichtenberg-based artists purposefully chose the colours for his design: Blue represents freedom and longing, while red stands for the creativity and energy he feels in Berlin. Over a period of three months, the internally renowned artist created a new attraction for his district.
Photo credit: HOWOGE/Fotograf: Klaus Dombrowsky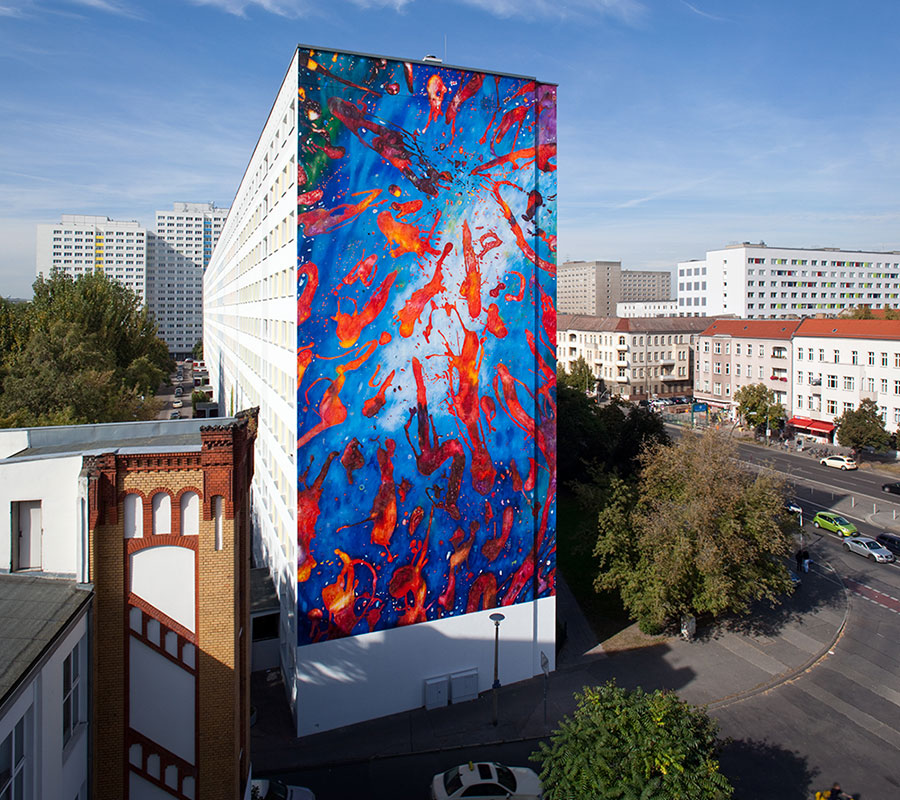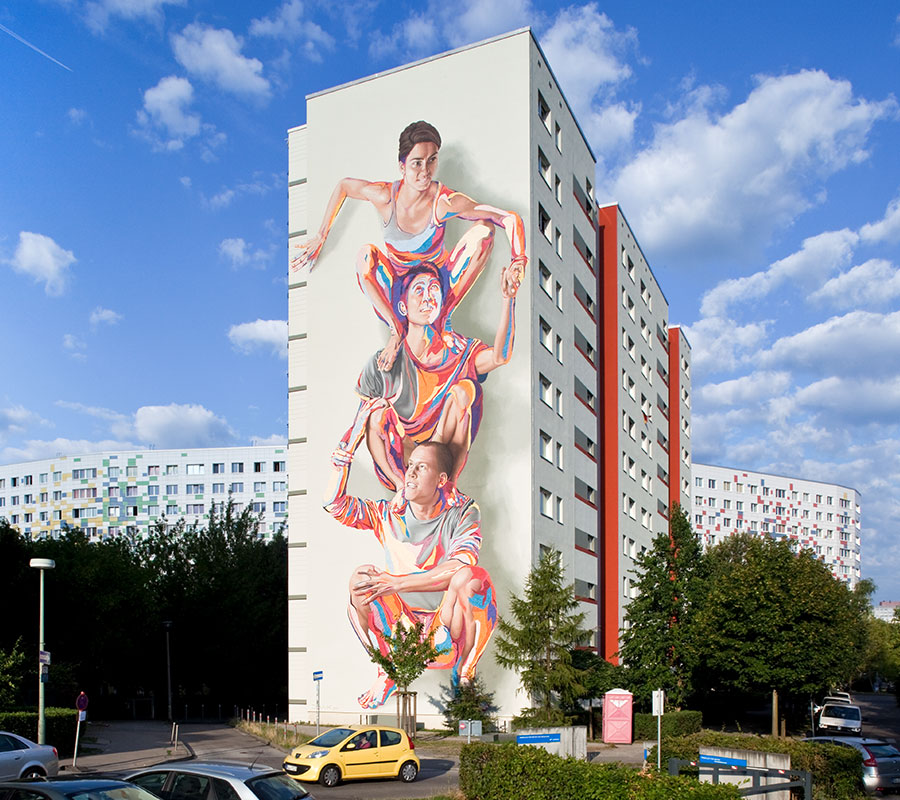 Standort: Landsberger Allee 228 B
The American artist duo JBAK, consisting of James Bullough and Addison Karl, find the German capital to be international and versatile. Their artistic reply: three oversized human figures of different origins. The image is as harmonious as the technology versatile. Photorealism and hatching created a unique effect.
Photo credit: HOWOGE/Fotograf: Klaus Dombrowsky
KLUB7
"Aufbruch in neue Welten", 2015

Standort: Warnitzer Straße 28
In this dream vision, the artists collective from Berlin and Halle deal with living together in the city as well as the combination of organic and architectural shapes. It follows the idea that the future belongs to those who believe in the truthfulness of their dreams. A suitable gift for the 30th anniversary of the district of Hohenschönhausen.
Photo credit: HOWOGE/Fotograf: Benjamin Pritzkuleit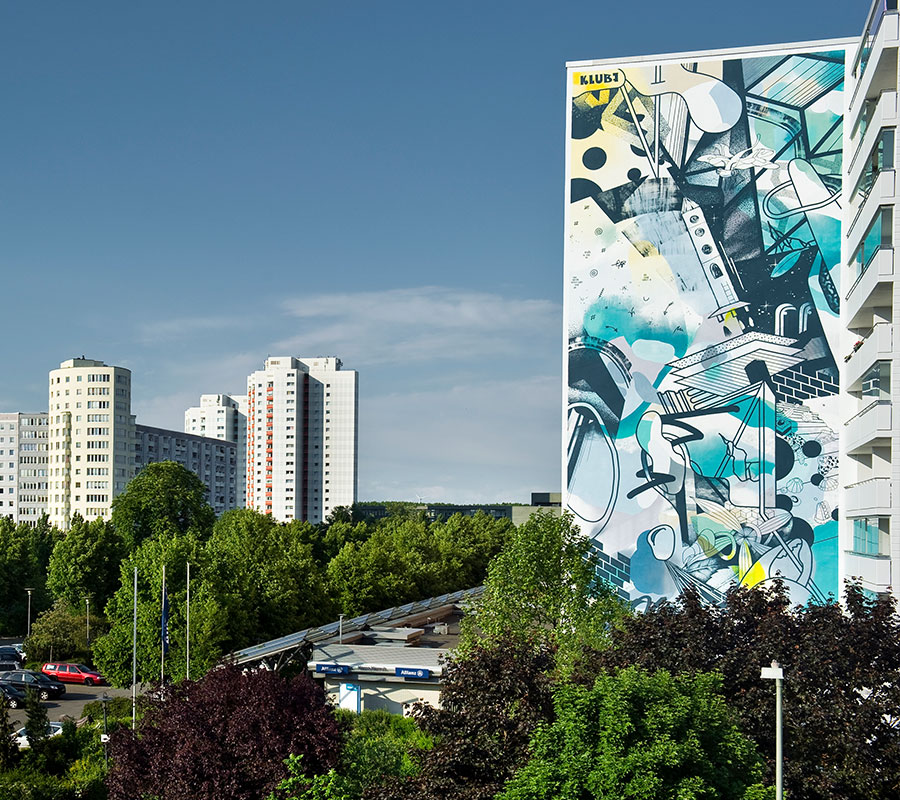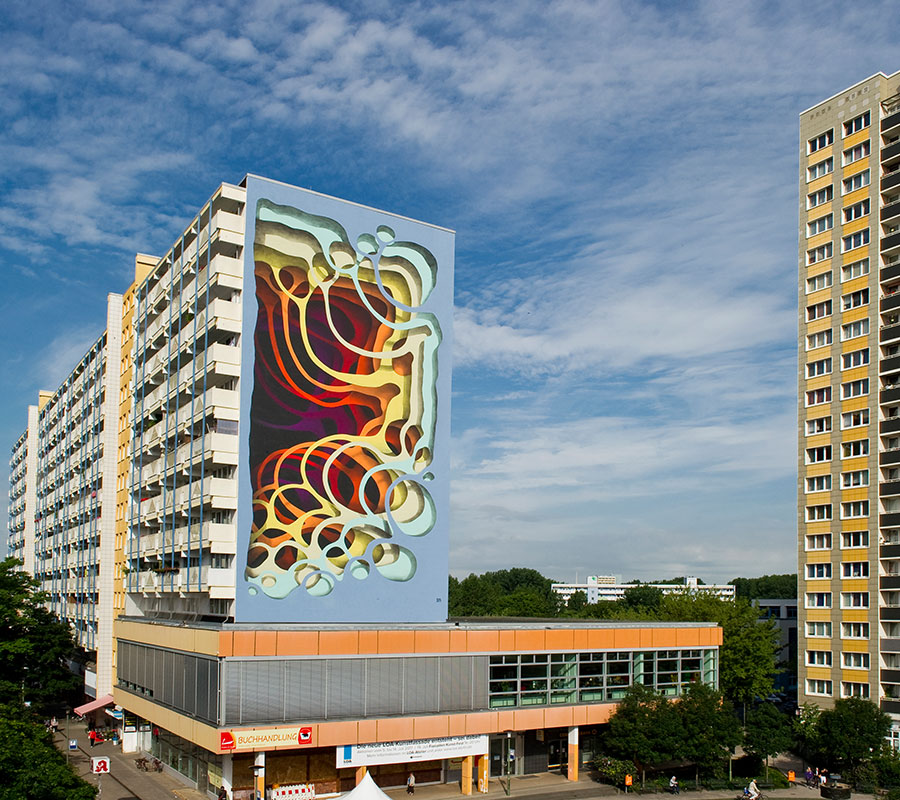 1010 "Tropfen und Ringe", 2017

Standort: Erich-Kurz-Straße 9–11
The Hamburg-based artist 1010 created a play on perception with his motif for the gable of the wall opposite the Berlin Tierpark. Layer by layer, he created an imaginative space which invites the observer to look behind the facade. An abstract illusion which creates fascination and puzzlement – just as the identity of the LOA artist.
Photo credit: HOWOGE/Fotograf: Benjamin Pritzkuleit